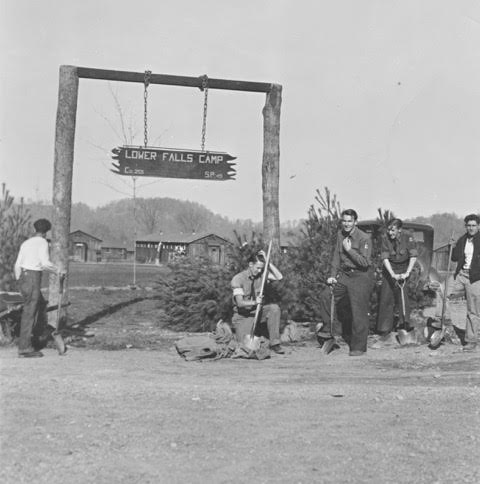 Annual Dinner Meeting and Program.
Sunday, May 21st 2017 @ 2:00pm.
At the American Hotel & Lima Town Hall.

A Short Meeting & Dinner will be at The American Hotel starting at @ 2:oopm
Our Program will follow, across the street, at the Lima Town Hall after dinner.
Reservation for dinner will be required
CLICK HERE to print out your order form to send to Martha Sempowski
Contact Martha Sempowski at: 624-2626
Our Program will be:

We Can Take It !
The History of the Civilian Conservation Corps
in Letchworth Park
by Thomas C. Cook
Between 1933 and 1941, over three thousand young men served in the four CCC camps located in Letchworth State Park.  The program explores life in the CCC camps, the many work projects, and the interaction between the camps and surrounding communities through photographs, documents and stories collected from the Park archives and from CCC veterans.
Tom Cook, the son of a CCC veteran, grew up in nearby Hemlock and graduated from Livonia Central School.  He earned his bachelor and master degrees at SUNY Geneseo and taught Social Studies for 33 years at Keshequa Central School in Nunda.  He also worked for 14 summers in the Letchworth Park History Program and helped to organize the first Letchworth CCC reunion in 1983.   Now retired, he is active in the Nunda Historical Society and Oakwood Cemetery Association.  Tom is the author of "The Civilian Conservation Corps in Letchworth Park," one of the Images of America Series by Arcadia Publishing.  This work, along with his other two Arcadia books,  "Letchworth State Park" and "Nunda, Portage, and Genesee Falls" will be available for sale.